CalmX
Helps Stressed And Spooky Horses
CalmX is a magnesium-free herbal calming solution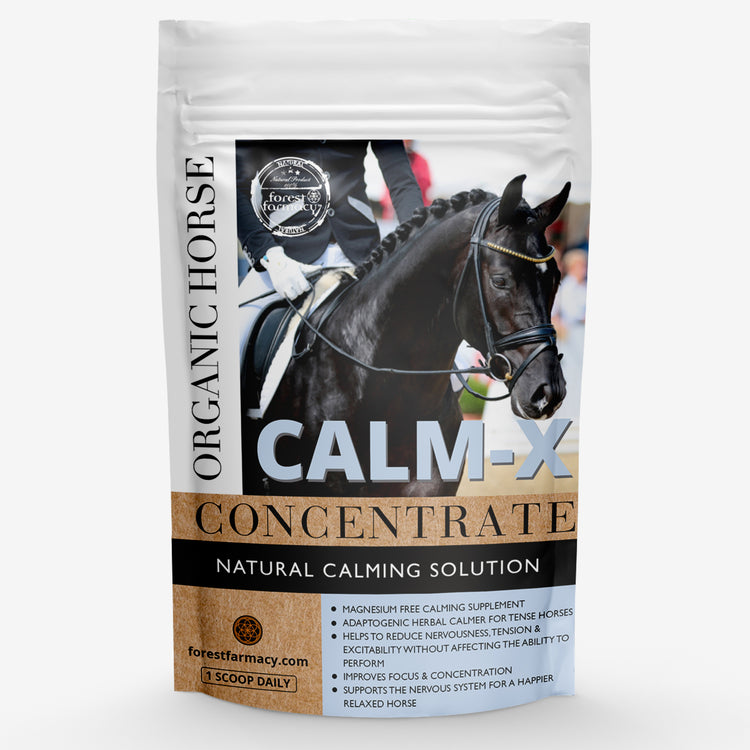 Reduces tension and excitability
Perfect for for spooky unpredictable horses
Strengthens the nervous system for a happier relaxed horse
Is your horse excitable, fearful, anxious or aggressive?
Calm X helps your horse concentrate, relieve show jitters and generally keep him calm during any stressful situation.
It is a natural formulation of calming herbs and antioxidants to help achieve a relaxed frame of mind while supporting the body's immune system during times of stress. .
Calm X is ideal for using on a daily basis and can encourage a softer, more flexible horse, more effective schooling and faster performance improvements. The magnesium free ingredients work together to strengthen the nervous system and promote calmness on a daily basis as well as dealing with instant worries.
You can also increase the dosage leading up to, and during, stressful situations.
✔Just 1 scoop per day
✔Simple and easy to use
✔The results speak for themselves
✔Settles stress and fear
✔Promotes relaxation
✔ Support immune system
✔Adaptogenic herbal ingredients
✔ Designed for tense nervous horses
✔ Reduces tension and excitability
✔ Improve focus and concentration
✔ Very palatable
✔ It WORKS and is INEXPENSIVE compared to other methods
✔ Strengthens the nervous system for a happier relaxed horse
Camomile,Flax seed, Brewers yeast, Thepax pre and probiotics gut enzymes, Seaweed, Wild sage, Alfalfa
Black cohosh, Neydharting salts, Ashwagnda
Homopathic Phosph 5c
Add 1 scoop (25ml) to feed once a day

Forest Farmacy use absolutely no toxic ingredients or chemicals in any of their products. All their natural ingredients are farmed completely organically and hand picked from around the world – to ensure the safest and highest quality products are created.

Have you got a testimonial that you want to share?