Joint Care
Aids joint comfort.
Joint care is the natural solution for Joint mobility & comfort.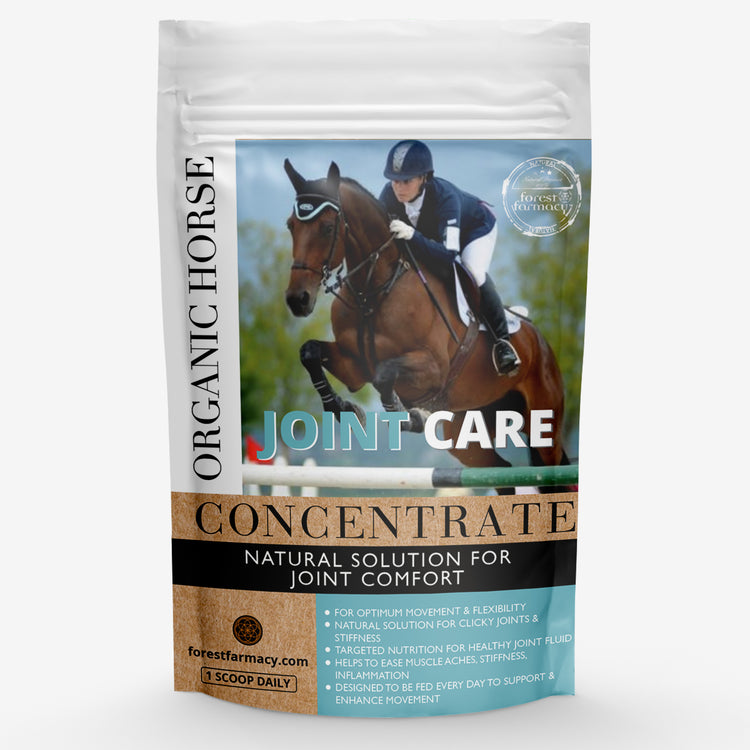 Joint maintenance supplement
Targeted nutrition for healthy joint fluid
Natural solution for clicky joints & stiffness
Sick of seeing yet another joint supplement on the market? We totally understand but did you know Joint Care not only assists in the care of your horse's delicate joints, but the natural ingredients, including wild sage, green lipped mussel, glucosamine and ginger, also work hard to develop stronger, more supportive tendons and ligaments around the joints? This can dramatically reduce the risk of injury to soft tissue as well as alleviate any stiffness and soothe inflammation. Plus, as with all our Organic Horse Supplements , Joint Care contains pre and pro-biotics to ensure efficient digestion making it truly multi-purpose!
✔ supports Flexibility
✔ Soundness
✔ Support tendons and ligaments
✔ Helps circulation
✔ Maintains suppleness and mobility
✔ Delivers nutrients right where they're needed for total joint health.
✔ Helps ease discomfort due to overexertion or injury
✔ Free from pheneylbutazone
✔ Very palatable
✔ It WORKS and is INEXPENSIVE compared to other Supplements
MSM
Glucosamine
Turmeric
Apium seed.
Green lipped mussel
Thepax pre & pro-biotics.
Ginger root.
Wild mint.
Flax.
Alfalfa.
Fennel.
Homeopathic: KALI-CARB 10c
Add 1 scoop (25ml) to feed once a day

Forest Farmacy use absolutely no toxic ingredients or chemicals in any of their products. All their natural ingredients are farmed completely organically and hand picked from around the world – to ensure the safest and highest quality products are created.

Have you got a testimonial that you want to share?